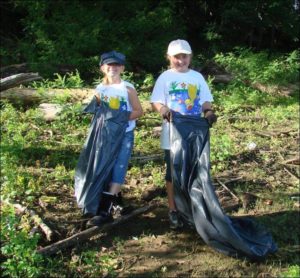 Students in the STREAM gets students involved in testing waterways that are located at or near their school! Classes who participate receive training and testing supplies to monitor a stream or lake several times a year. Students also receive materials to conduct a clean-up event at or near their monitoring site.
The goal of the program is to help students understand the path trash takes from our streets, through storm sewers, into creeks and streams that eventually flow into to the Ohio River. By seeing these connections, students can then understand how to better protect our waterways.
Students also get their feet wet in STREAM concepts by collecting, assessing and reporting data, and by using art and writing to capture their observations and to participate in water quality protection activities. Teachers also benefit from hands-on training and testing supplies that will allow them to conduct place-based learning at their school!
Students in the S.T.R.E.A.M. brochure
For more information, please contact Heather Mayfield at 513-231-7719, extension 115.