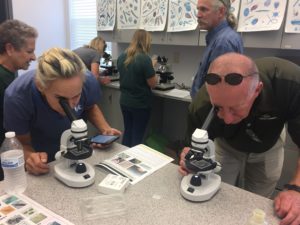 FORE provides a variety of professional development programs for teachers in partnership with universities, agencies, and environmental education organizations across the Greater Cincinnati area!
FORE also works in conjunction with ORSANCO's Riverwatchers program to train teachers and citizens to conduct volunteer water quality monitoring.
For high school teachers participating in FORE's River REACH floating classroom program, a hands-on training is offered in conjunction with the "River Report Cards" curriculum.  Teachers  using this curriculum will receive volunteer water testing training through ORSANCO's Riverwatchers program, as well training and materials for classroom activities . If you have signed up to participate in our high school floating classroom program, our director will work with you and other new teachers to schedule a training date.
For more information about professional development opportunities for teachers, please contact Nick Callahan at 513-231-7719 (ext. 102).