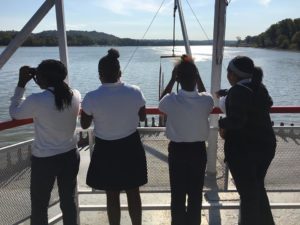 River Research Education and Adventure Charters (River REACH)
The River REACH program  is a floating classroom program that connects schools in Greater Cincinnati to the Ohio River through exciting voyages of science and discovery!
FORE is currently partnering with BB Riverboats to use the River Queen as a floating classroom and educational laboratory. While on-board, students test water quality using the same methods and equipment as scientists who monitor and protect our river. They also see firsthand how they depend on the river while discovering beauty and wildlife that surrounds them in the most unexpected places!
The overall experience gives students a sense of place in their watershed and an understanding of the challenges that need to be addressed in protecting a resource that literally runs through the lives of millions of people.
The River REACH program engages students in applied STEM (Science, Technology, Engineering, and Mathematics) disciplines through hands-on water quality monitoring, habitat assessments, and studies of aquatic organisms, including fish and macroinvertebrates, that are used to study the health of the river system.
River REACH programs are available for students in grades 4-8 and high school. The curricula for these programs have been developed by scientists and educators from local agencies, schools, and universities to meet science standards in Kentucky, Ohio, and Indiana. The high school component of this curriculum was awarded Outstanding Project by the Ohio EPA!
Elementary and Middle School Programs
Cruise Information and Registration