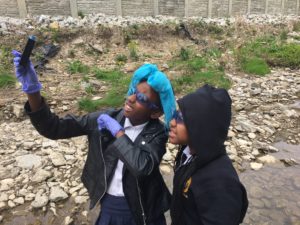 Students in the STREAM
Update: this program is now available for virtual classrooms!
Students in the STREAM is a program for schools in Cincinnati, Northern Kentucky and Southeast Indiana that gets students involved in testing waterways that are located on or near their school campuses! Classes who participate receive training and testing supplies to monitor a stream or lake several times a year. Classes also receive materials to conduct a clean-up event at their monitoring site, as well as staff support from FORE at their first testing event.
The goal of the program is to help students understand the path trash takes from our streets, through storm sewers, into creeks and streams that eventually flow into to the Ohio River. By seeing these connections, students can then understand how to better protect our waterways from pollutants that aren't as easy to see as litter.
Students also get their feet wet in STREAM concepts by collecting, assessing and reporting data, and by using art and writing to capture their observations and to participate in water quality protection activities.
Teachers benefit from hands-on training and testing supplies that will allow them to conduct place-based learning at their school.
This program can be adapted in a number of ways to be partially virtual, or all virtual!
For more information, please contact Nick Callahan at 513-231-7719 (ext. 102).
Students in the S.T.R.E.A.M. Brochure
RiverWatchers
RiverWatchers is a citizen volunteer monitoring program for the Ohio River and selected tributaries throughout the Ohio River Basin that was originally founded in 1992 by the Ohio River Valley Water Sanitation Commission (ORSANCO).
The program includes groups in six Ohio River Basin states. These groups are comprised of students and citizens who are concerned about water quality issues.
Since the program began, thousands of volunteers have collected samples from the Ohio River and its tributaries to test for water quality. Outfitted with chemical test kits, a basic knowledge of water quality, and a desire to learn more about the effects of pollution on rivers and streams, participants collect samples and conduct tests to evaluate the health of local waterways in the Ohio River Basin. Data collected during testing are sent to ORSANCO where they are evaluated and entered into a database.
For more information, please contact Nick Callahan at 513-231-7719, extension 102.
View RiverWatchers Data (2004-2022)
RiverWatchers Safety Data Sheets (PDF)
RiverWatchers Testing Instructions (PDF)
RiverWatchers Classroom Presentation (PDF)
Macroinvertebrate Identification Sheets
Macroinvertebrate Collection Video
Macroinvertebrate Identification Video